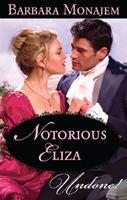 Barbara Monajem's Notorious Eliza is fast, spicy read. Its a perfect read on a snowy February day.
Its the story of the infamous widow Eliza Dauntry, who makes her living painting courtesans. She takes a job redoing a risque mural for Patrick Felham's uncle. Eliza is doing the paintings so that she could provide for her son James.
Patrick returns to his Uncle's estate to find Eliza, who just happens to be the widow of his boyhood friend and a woman his harbored a secret desire for.
Its no surprise that when they meet sparks fly, but Eliza has reservations, about money, how people will think and reputations. They manage to get together though and have a happily ever after.
I loved that Eliza was strong willed and such a good mother, just as Patrick was determined to be a good father. The best part was how comfortable she was with her sexuality.
So if you are looking for a quick spicy read, this is a great place to start, and while you're at it check out more of the short stories from Harlequin Historical Undone. They'll definitely heat things up.