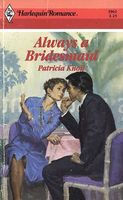 Always a Bridesmaid is a lovely book by Patricia Knoll that will appeal to young and old readers with a taste for the romantic.
Shelby Featherstone is trying to open a bridal store in a fancy mall run and owned by one A.J. Court, who keeps denying her applications. When she storms in on his business lunch, things get hilarious.
She becomes his fiancee for the moment.
But even after the charade is up, the two of them keep ending up together.
This book would make a perfect romantic comedy. It has all the right elements; a wacky female character that's a little bumbling and her crazy/ditzy family. A well to do hero that really has a heart of gold.
With the plot twists of having him become engaged to Shelby's best friend and then that best friend's former boyfriend wanting her back...really...this book should be on the big screen!
This was an all around super fun read that I didn't want to end.