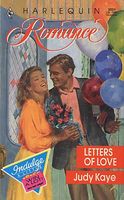 Judy Kaye's Letters of Love is one of the sweetest books I've read in the Romance line in quite a long time.
The character's Chase Kincaid and Karen Matthew aren't young. Both are career minded adults and that makes the story more interesting. Its nice not to have a super young girl, and the older wiser man.
I really loved Chase's meddling kids and how they conspired to keep their father from being lonely. Karen's friend Molly, is just as bad, and her personal issues add a lot of laughter to this story in spots where things just weren't happening with Chase.
In fact, throughout the story, I found myself waiting for another guy to jump into the picture because Chase was taking his good ole time. The budding romance between those too took a lot longer than I would have liked.
The one thing that really made me pleased was how good of a father Chase was. He was willing to put just about everything aside, including his relationship with Karen for his kid's sake. That was admirable.
I also liked how sex was really downplayed in this story, and yet the two characters made it through their "courtship" without hopping into bed.
I read this one in a day and I enjoyed every page.