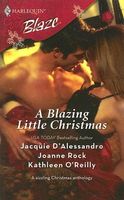 I'm a little late with some of my Christmas books, but this was actually one I picked up at either Goodwill or Half Priced Books. Its an anthology of 3 stories that center around one lodge in Lake Placid, NY.
Two out of the three stories are really great, the middle story is so so. All of them are filled with steamy sex.
The first story is by Jacquie D'Alessandro and its call Holiday In Bed. The two characters Eric and Jessica are engaged restaurant managers trying to save their relationship. Their families are going nutty planning their wedding and they would like nothing more then to just run away and say "I do."
After reading a few of the scenes with Jessica's mom and Eric's sister, its no wonder the couple's relationship is on the rocks. But one has to wonder where both of their spines are? I don't care how much you love a family member, I can't imagine going several months letting them control something as important as a wedding.
I loved some of the flashback scenes in this one. Oh and there's a lap dance scene that will have anyone reading running off for a cold shower!
The second story is Joanne Rock's "His For The Holidays." This is the so-so one for me. I liked Heather and Jared but the plot of a couple that had wild weekend together 5 years before suddenly getting together again, with revenge on someone's mind, didn't do it for me. Plus everything got wrapped too a little too easily in their story.
The last story is "Dear Santa" by Kathleen O'Reilly, one of my favorite Blaze authors. I really liked the concept of this story. Rebecca has lost her job at an exclusive school, because she had the kids write letters to Santa. She gets a letter saying Santa's bought her a weekend getaway at the Timberline Lodge and that's where everything starts happening and by everything I mean, running into a guy she went to school with.
He's not big on Christmas, but he turns into her Christmas present. There's more to this story than just hot sex too, but I won't give that away, you'll just have to read it for yourself.