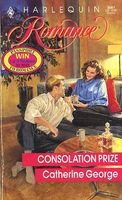 Catherine George almost had a winner with Consolation Prize. The story is cute enough with Hillary Mason and Rhodri Lloyd-Ellis who just can't seem to get together properly. When they meet, she thinks he's a burglar and hits him over the head with a hockey stick. From there on, the relationship that they try to get started is plagued by insecurities and stupidity.
There is one thing that bugs me about this book and a few others. Since when is kissing, making love? Huh? What?
The story really seems to focus on Hillary's having some self-esteem issues. She doesn't think a wealthy man could possibly like her when compared to her sister, Candida, who is now dating a famous actor, who is on the rebound from a friend.
For awhile her finding excuses and arguing with Rhordi was cute, but it never really stopped even when it became apparent that they both liked each other. It was always he's much older, he's an aristocrat, he drives a fancy car. Its always something. And granted all those reasons really make it unlikely for a 35 year old to fall for a 20 year, it happens. I just wish some of the filler would have been left behind.
When Rhordi uses his influence to have Hillary sacked from her second job at the hotel, I think I would have washed my hands of him. His behavior was too controlling. I don't care how much I thought I was in love with him at that point, I would have washed my hands of him then and there.
The story was cute at times but there was too much of it that was a bit hard to believe.