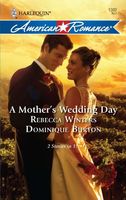 A Mother's Wedding Day is a 2 stories in one book, written about a mom finding love and then a daughter. The thing that makes this book so unique, is that it is written by a mother/daughter team, Rebecca Winters and Dominique Burton.
These two women wind an entwining tale of heartbreak, hurt and healing. In the first story, A Mother's Secret, Andrea Danbury is coping with a boss that is battling alcoholism and a daughter who is barely speaking to her as a result of some information withheld throughout the years.
Rebecca Winters shows us a mother's pain as only a mother could. Andrea is so well written. You feel her love for her employer, her daughter and for Max, the boss' son, whom she's harbored feelings for, for years.
The best thing about this heroine is her real strength. You know the decisions she makes are ones that most women would make. Her emotions are a mother's emotions and you love her for it.
The only thing that could have made this story better would have been if it were a full length, thus allowing Steve and Helen to have more of a role in the plot.
Dominique Burton's story is A Daughter's Discovery. Sammi Danbury is Andrea's daughter, who has discovered her mom hasn't told her the whole truth about her family. She's learned that her father's family is from Alaska and they may still be alive.
Returning from a harrowing photoshoot, Sammi goes in search of her grandparents and finds love in the handsome Jake Powell, who is the son of her father's best friend.
I really love Sammi and how easily she fits in with her new found grandparents. I just wish forgiveness would have come to her a little more easily. Just as it would have been nice if Andrea and her first husbands parents could have had a few scenes together. It seems to me these people would have a lot to say to each other.
I particularly loved the scene where Sammi sneaks aboard Jake's plane, and gets a bit delirious from a bug she picked up while in Africa.
Both stories were wonderful and this is a perfect books for moms.