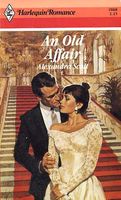 The way this book was written, you would have sworn that it took place in the 1960s rather than the mid 80s.
This was not a book that I could really get into. It seemed more like a Presents rather than a regular Harlequin Romance. The hero had that overly arrogant manner and the heroine was more than a little bit wussy.
In a story where two former "lovers" reunite, there are so many things that could happen that could bring about a happy ending, but that's not the case here. Arabella finds it hard to tell the truth because she believes Rudi left her after a bitter fight 5 years before. She's cold, catty and quite often unlikable. I found myself wanting to smack or shake her several times in the story.
She told lies and created innuendo that were meant to keep Rudi away. It would have been better if she screamed and shouted at him. It might have saved the author a few dozen pages.
The only thing about her that I did like was her loyalty to her father, who has run about on hard times. I shook my head at how she was a struggling model, yet she was working for a top designer. Even in the 80s if that were the case, she could have helped get her father out of his financial difficulties. Its not as if she was a catalog model.
Rudi was a bit more likable, but again, the two characters just had way too many secrets and very little trust in one another. It almost made the happy ending a bit unbelievable. Neither one of them wanted to come out and confess their true feelings. The whole book felt like a power struggle and that didn't make for good reading. In a line where most stories are lighthearted this one was a bit to dramatic.