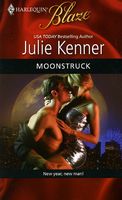 Julie Kenner's Moonstruck was one of those stories that just didn't work for me. Claire and Ty just did everything too fast to be believable. The two hook up on New Year's Eve when Claire sees her ex with a hot new woman. The speed their relationship progresses at is fine when things were looking like a one night stand, but when they started talking about how they thought that each of them was "the one" after only spending a few hours in bed doing the horizontal mambo and licking chocolate off each other, well I found myself getting annoyed. I found myself talking to the book and telling the characters that they were thinking with their nether brains and not the ones in their heads.
Most Blaze novels that I've read have a good story to carry it. This one was weak at best, focusing more on sex than a good story that will draw readers in. Yes, I like steamy stories. Its great escapism, but I also ask to have a story that while it may not necessarily be 100% believable, should at least not leave me wondering about the characters.
The heroine, Claire is a lawyer, with dreams of being a judge. Ty is a night club owner whose face ends up in the tabloids more often then not. You Can see where there might be some conflict here, right? Especially when the wannabe judge ends up with her picture posted on all sorts of gossip blogs.
Both are very heavily into their careers, and yet a compromise is made so there's a happily ever after.
Maybe I've read too many of these lately but I got no enjoyment out of this one.