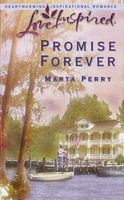 Promise Forever is a great example of why I love the Love Inspired line of books. Its also a reason why I count Marta Perry as one of the authors that I buy without question.
Its really hard to write a romance novel without sex, while creating a story that's believable to the readers. Marta does this well and this story is no exception.
The heroine is "Island Girl," Miranda Caldwell who had a brief marriage to "richy" Tyler Winchester when she was eighteen. The marriage ended and Miranda had a child she didn't tell Ty about. Eight years late a photo ends up in Ty's hand with "your son" written on the back.
Its what happens when Ty ends up back on the island that makes the book so wonderful. Through Miranda, Ty learns to love and trust and above all other things, he learns to be a father to Sammy. He even realizes that he never lost his love for Miranda and that discovery really makes this story special.
The other thing that I loved about Promise Forever was the story of the missing dolphin and how a near tragedy brought it back to the family.
I like that faith plays a part in the book without centering on a religion. The other thing about this line is that anyone can read them without there being a fear that it will be too smutty.
This was an excellent read and one I'd recommend to other friends