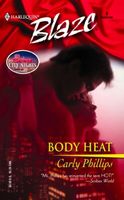 I love Carly Phillips. She's one of my favorite authors, but for some reason, this book just did nothing for me.
It wasn't a bad story, I just couldn't get into it. Jake Lowell and Brianne Nelson were likable enough characters, the storyline was fast-paced and exciting, but maybe that was it. It was too exciting and not hot enough.
There was sexual tension galore between the two lead characters, but it didn't get acted upon until the story was at the halfway point.
This read more like an Intrigue or a Romantic Suspense novel than a Blaze Temptation, at least for me. That has to be my main problem with the book. I wanted more heat and Carly was giving out more cops and drug dealers only not as exciting.
It just felt very middle of the road for whichever genre you placed it in for me. I wanted more. I also would have liked to have met Brianne's brother, since she speaks of him so much, and considering that it is summer, its hard to understand why he was in school.
It took me 4 days to make it through this 250 page book. That's something I could usually do in about a day. So something didn't grab me. I wish I could gush about this one, but it just wasn't for me.