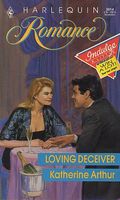 Loving Deceiver by Katherine Arthur had to be one of the most original plots I've come across in a Harlequin Romance. Its also silly. Very silly.
Our heroine is a private detective working for the A-1 Detective Agency owned by her brother and she's on her way to NOLA to find a runaway husband. On her way she finds the man who broke her heart five years ago, Luke Thorndike, because when they were involved, Luke was a married man.
This is where the story gets fun and takes a turn for the slapstick comedy route. Theresa overhears two thugs talking about snuffing her ex-beau and her being a Private Detective, decides she's going to protect him, even though she doesn't want to be near a man she can't trust.
The story plays out like an episode of Monk meets the Keystone Cops. And Luke, though lovable is really not very believable as a Hollywood screenwriter. He's a bit too goody-goody to be successful in LA. Hollywood types are not known for their chastity.
The thing that you will like about Luke is his kooky behavior. This guy is more than a little bit eccentric and that really helps make the story funny rather than suspenseful, which is good, because this is the romance line. Things need to be kept light here.
Even though there were some very unbelievable things in this story, I couldn't help but like it. It was too funny not to like. Also it was one story that I could see crossing over to the little screen. Very cute. Very Funny and Very Readable.