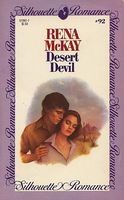 Author:
Rena McKay
Title:
Desert Devil
Publisher:
Silhouette Romance #92
Publish Date:
July 1981
Rating:
3 Stars
Book Blurb:
FORBIDDEN LOVE
Juli Townsend was sure that Thorne Taylor, the dynamic, arrogant owner of Taylor Electronics, had cruelly wronged her family. She was convinced that he had stolen the profits from her brother's secret invention for his company and had never acknowledged it.
Determined to challenge Thorne with her suspicions, Juli drove all the way to Cholla, Arizona to confront him in person. When she demanded satisfaction, Thorne dismissed her. He even angrily accused her of blackmail.
But Juli refused to leave Cholla. She would find out the truth--even if it meant losing the only man she could ever love.
Review:
This story was very cute, though there were several things about it that drove me nuts. Juli was 22, and she acted like she knew everything, which is typical of a 22 year old, but most 22 year olds wouldn't try to go head to head with the president of a big company.
The relationship that develops between them is strained, at best, but isn't that what we like the most about romances? Thorne is a bit arrogant and isn't very trusting of Juli, but by the end of the story, we can completely understand his reasoning. It is also hard to dislike a man that took time out of his busy day to deal with her nonsense.
I wish there would have been more communication between the characters. It would have made the story better. Even if they would have developed the relationship with Brian, the employee who took her cousin David's place in the company it would have made things more interesting, as it was, the modern reader feels like she was using him in some way.
This wasn't the greatest read, but it was entertaining at times.