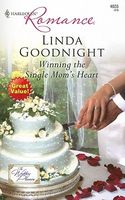 Author:
Linda Goodnight
Title:
Winning The Single Mom's Heart
Publisher:
Harlequin Romance #4035
Publish Date:
July 1981
Rating:
4 Stars
~ Summary via fictiondb
Single mom Natalie juggles creating fantastic cakes for the Wedding Belles with raising her troublesome twins. But her hard--won independence means she won't be decorating her own cake anytime soon....
Cooper Sullivan is a winner. He's competitive and at the top of his career. A new job leads him back to Natalie's door. Seeing her again after so many years makes Cooper realize that the only thing he never won--and the only thing that really matters--is Natalie's heart.
Linda Goodnight is one of those authors whose books always leave you with a smile. I've read several of her romances for the Love Inspired line that Harlequin also publishes. I was really interested in seeing if her writing style changed when she was writing for a more mainstream line, and I'm glad to say that it didn't. Her characters didn't lose their values.
Natalie was a widow, her husband, Justin, died in a tragic motorcycle accident two years earlier, leaving her with debt and twins to raise. The twins, Rose and Lily are really the highlight of this novel. Lily is an absolute joy and Rose is a mischievous little imp. Their interactions with each other and especially Cooper bring a lot of laughs to this story.
Cooper is a go getter, always looking out for number one, but his heart is always in the right place. He's the kind of doctor that there should be more of. He really cares about the kids that he helped. I only wish the story could have been longer, so that some of his issues with his parents could have been resolved.
Linda worked a lot of real life into this story, from illnesses (diabetes) to family problems and the characters stayed believable. I also love that though, Justin died leaving Natalie with a lot of debt, Natalie didn't feel that he was less of a man and that Cooper was her one true love.
I really loved this story and was sad to see it end.