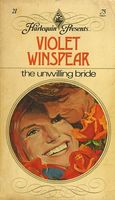 Author:
Violet Winspear
Title:
The Unwilling Bride
Publisher:
Harlequin Presents
Publish Date:
1969 M & M 1973 US
Rating:
2 Stars
Book Blurb:
Ravena Brenin dearly loved the kindly guardian who had brought her up -- and she loved his son Rhodri Brenin even more.
But she was marrying a virtual stranger, the forbidding Sardinian Mark di Curzio, a man for whom she felt nothing but apprehension and dread. She was doing it for love - but for love of her guardian, whose life would be ruined if Mark told him, as he had threatened to, that it was his son who had been responsible for the tragic death of Mark's only child.
The price for Mark's silence was a high one - for all he wanted of Ravena was that she bear him a son to replace the one he had lost. Could she bring herself to pay it?
Review:
This was quite a story, both odd and annoying at the same time. Reading these older stories, and this one was originally published in the UK in 1969, is quite a challenge.
It was hard to handle the plot. Mark was badly burned and his young son killed in a car crash caused by Rhodri Brenin. He wishes to marry Ravena so that he can have another child and also to keep the secret that he holds about the accident from her guardian.
It leaves you wondering about Mark. Why didn't he go to the authorities? Why weren't they involved in the first place? It makes no sense.
I can understand some of Ravena's behavior towards him. He really did set out to blackmail her into marriage, but I think at times she was unnecessarily nasty. Once wed, Mark was really nothing but kind towards her. Sure he was an arrogant male, but he was nothing less than a good husband and she was throwing fits and shrinking from his scars like a spoiled child.
Their love being declared at the end was a little to easy, like it was written simply so there would be a happily ever after. I would have prefered better closure with Rhodri, then the way the ending was done.
A very bizarre story to say the least.