On My Wishlist is a fun weekly event hosted by Book Chick City and runs every Saturday. It's where I list all the books I desperately want but haven't actually bought yet.
My Amazon Wishlist is a scary scary place. It has hundreds of CDs and books and DVDs. I'd be a pauper if I ever actually bought them all. However my birthday is coming up in a few weeks, so hint...hint...to all my gift buying friends!
Here are a few of the books on one of my wishlists...or the wishlist in my head.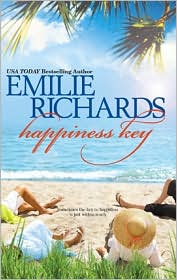 Emilie Richards - Happiness Key
~Synopis from Barnes and Noble
Meet four women who think they share nothing but a spit of land called Happiness Key.
With her husband in prison, pampered Tracy Deloche is left with five ramshackle beach houses and no idea how to start over. Janya Kapur left her close-knit Indian family for an arranged marriage to a man she barely knows. Wanda Gray takes a job guaranteed to destroy her already failing marriage—if her husband cares enough to notice. Widow Alice Brooks has grown forgetful and confused. Her family comes to stay with her, but Alice isn't sure she's grateful.
When the only other resident of Happiness Key dies alone in his cottage, the four women warily join forces to find his family. Together they discover difficult truths about their own lives and the men they love—and uncover the treasure of an unlikely friendship.
Sandra Dallas - Prayers For Sale
~ Synopsis by Goodreads
"It's 1936 and the Great Depression has taken its toll. Eighty-six-year-old Hennie Comfort has lived in Middle Swan, Colorado - up in the high country of the snow-covered Rocky Mountains - since before it was Colorado. When she first meets seventeen-year-old Nit Spindle, Hennie is drawn to the young grieving girl. Nit and her husband have come to this small mining town in search of work, but the loneliness and loss Nit feels are almost too much to bear. One day she notices an old sign that reads "Prayers for Sale" in front of Hennie's house and takes out her last nickel. Hennie doesn't actually take money for her prayers, never has, but she invites the skinny girl in anyway. The harsh conditions of life that each has endured help them to create an instant bond, and a friendship is born, one in which the deepest of hardships are shared and the darkest of secrets are confessed." This novel tells the tale of a friendship between two women, one with surprising twists and turns, and one that is ultimately a revelation of the finest parts of the human spirit.
Lance Parkin - Doctor Who: The Eyeless
Maybe I just want to stare at the cover of this book for awhile? I miss David Tennant. Here's the Amazon Synopsis:
At the heart of the ruined city of Arcopolis is the Fortress. It's a brutal structure placed here by one of the sides in a devastating intergalactic war that's long ended. Fifteen years ago, the entire population of the planet was killed in an instant by the weapon housed deep in the heart of the Fortress. Now only the ghosts remain. The Doctor arrives, and determines to fight his way past the Fortress' automatic defenses and put the weapon beyond use. But he soon discovers he's not the only person in Arcopolis. What is the true nature of the weapon? Is the planet really haunted? Who are the Eyeless? And what will happen if they get to the weapon before the Doctor? The Doctor has a fight on his hands. And this time he's all on his own. Featuring the Doctor as played by David Tennant in the hit series from BBC Television.
Oh and I just have to say that looking through my wishlist made me wishlist more books. ARGH!