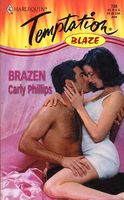 Carly Phillips is an author that always delivers a good story. Brazen was Carly's first book for the Temptation line and its been reissued on Harlequin's HQN imprint, so that everyone can read it, and its worth revisiting. I was a bit surprised that it was a Blaze Temptation, as the sex didn't really take a front and center part in the story until the second half of the book. That didn't make the story any less steamy though.
Sammy Jo was the kind of heroine I really love. She's hard working, she loves her family and she's not a whiner. She sets out to have a fling before she has to commit to a man she's marrying to get her father out of debt.
Sometimes things don't go as planned. Enter Mac "Ryan MacKenzie" who she believes is a bartender. There's an instant attraction between the two and when her rental car leaves her stranded at his bar, things really start to heat up. However, the fact that both of them are keeping secrets from each other doesn't make things go easily for them in the end. See Sammy Jo, doesn't tell Mac about her fiance and Mac keeps her in the dark about the fact that he owns a highly successful hotel. That causes a good bit of conflict in the end.
Both characters are lovable and you understand their need to keep secrets, even though you want them to share them, so that they can get it together. There are times when you'll want to shake them both so that they'll see sense. I guess that's why Zee played a huge part in the story, he helps Mac see reason.
This is the kind of book that you can easily envision being turned into a romantic comedy and a good one at that. It has all the right elements including a wonderful happy ever after.