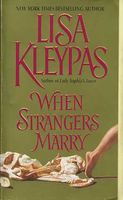 Any lover of historical fiction can't go wrong with a book by Lisa Kleypas and this book is no exception. It has all the things in it that make for a good romantic read; hot steamy sex, a little bit of suspense, and characters you can't help but fall in love with.
Kleypas creates a whole cast of characters that you will welcome into your life because of their strength and their flaws and each character in this book has something in their past that makes them "interesting."
Lysette Kersaint stumbles into the life of Maximilien Vallerand fleeing from an abusive step-father who is trying to force her into a marriage she doesn't want. Max is looking for a way to best a rival, who had an affair with his murdered first wife, oh and he's been accused of murdering that first wife. Add to the mix his twin sons, two brothers and his mother and you get a very interesting array of characters.
The story is set in New Orleans and is also full of the history of the time which really gives the story a colorful background.
This is one of those books that my grandmother would have enjoyed because you get a good story and you feel like you've learned something while reading it. This is a must read for historical romance fans. It would be on my keeper shelf if it weren't falling apart.