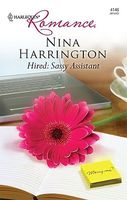 If you are looking for a heartwarming, sweet love story that you won't be able to put down, look no further than Nina Harrington's second book for Harlequin Romance.
This book is hands down one of the reasons I've always loved this line. The focus is on the characters and not sex, which is refreshing sometimes. Not that I don't love a spicy story, because I do.
This story, in particular, focuses on family ties and relationships, as well as coping with disabilities. The heroine, Lulu Hamilton, is hearing impaired, a result of a tropical illness that she caught while visiting her mother in Africa.
She's now working with famed doctor/writer Kyle Munroe on his second book that involves the work of her mother. In the process of doing this, Lulu and Kyle fall in love.
This story was really well written and it showed both characters issues with their parents and their relationships.
When Kyle explains how he dealt with Lulu's mother's death, your heart breaks for him, and you really wish Lulu would be a bit more understanding, even though the news casts doubts on why Kyle is showing interest in her.
There was nothing I didn't like about this book. I could not put it down. Its definitely a keeper and likely to be a book I will read again when I need to feel that all can be good with the world.