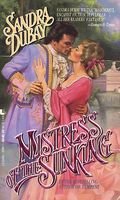 Mistress Of The Sun King is a fictional biography of Athenais de Montespan the second mistress of King Louis XVI of France. The story starts with Athenais' move to the court of France and then skips to her marriage and subsequent affair with King Louis XIV. Not much of her life is detailed in those first areas, until she starts to be noticed by the king.
This novel is definitely a very romanticized telling of Athenais' rise to be 2nd in power in France, but this was writen as a love story, which is why her fall from grace is not part of this book. Even in doing that, its impossible not to find Athenais to be a greedy, scheming woman who will do and often did anything to stay in the position of the King's favorite. In the beginning of the book, its very difficult to like her at all and though she becomes more tolerable as the book progresses its very hard to change that first impression.
There's a lot of intrigue and scandal in this story. Most of which seems historically accurate or close to it. I particularly liked the inclusion of the possible child of the Queen's that could have been fathered by one of her dwarves.
Sandra's choice of character's is unique as most people seem to gravitate towards the queens and kinds as subject matter, but she chose the king's mistress, and for the most part, its an entertaining read.
As a society we like the bad girls, and Athenais was definitely a bad girl in her day. A great read that has made me want to learn more about her and Louis XIV's reign.