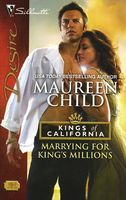 Maureen Child's Kings Of California mini-series for Silhouette Desire is probably one of my favorite mini-series. I was introduced to her books by Harlequin Ambassadors, first with the free ebook Wedding At King's Convenience and then this current book.
Maureen really knows how to write a good, spicy book, without neglecting the plot. Even though its hard to identify with the super rich King family, its easy to fall for Travis King, just as easily as Julie does.
In this story, Travis and Julie have entered into a marriage of convenience. Travis gets a wife for the year so that he can get a distribution deal for the King family wines, and Julie gets paid a tidy sum so that she can open the bakery she's always dreamed of owning.
However things start going wrong from the minute they say "I do" and that's what makes the story so great. Julie's ex shows up with blackmail on the mind, and with a little tidbit of information that causes havoc.
When its discovered that Julie is still married to her first husband Jean-Claude, Travis find it hard to trust Julie, even though he's finding himself passionately attracted to her. But scandal after scandal follows them, threatening his business deal and then Julie ends up pregnant, something Travis wasn't planning for either.
I loved the way the character's interacted. Travis definitely fit the bill as a wealthy celebrity and Julie was properly out of her element as his "Queen."
It was great to watch Travis fall for Julie and the baby, even though he had his doubts about her. You could understand his weariness as a result of each scandal, just as you could understand Julie's frustrations and her inability to control the situation.
Maureen has created a strong cast of characters and a great read that will happily reside on my keeper shelf.