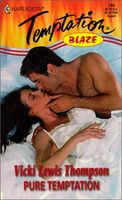 Vicki Lewis Thompson's books are almost always fun books. That said, Pure Temptation just didn't do it for me, and I'm hard pressed to figure out why, besides the obvious, 26 year old virgin thing.
Dear god, I wish writers would stop with this. Its just a little too unrealistic. It may work for a cute comedy, but in a romance novel where the heroine is supposed to be gorgeous, its just silly.
All that aside, Tess and Mac are cute and funny. Tess has a summer project to lose her virginity and Mac is her best friend, and she enlists him to help her find a man to do the deed. Well, Mac can't stand the thought of her being with anyone else, so he volunteers to solve her problem. Which causes problems because both end up falling hard for each other, even though they know Tess has plans to move to NYC in August.
The best part of the book involves the sex, because Tess has taken to reading some pretty interest self help books about the subject and she ends up being experienced without even having sex.
The bad part still is the whole virginity thing. The concept of friends to lovers works well, but with the 26 year old virgin thing involved, it detracts from a story that could really work otherwise.
Its a good read, but it lacks that something that would make it great.