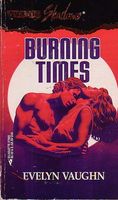 This book totally reminded me why I loved the Shadows line back in the 90s. Some of the stories were really borderline horror novels and this is one of them.
In Burning Times you have a possession and a witch. The spirit that's doing the possessing is a Puritan that is out to see witches burn, and he comes through a portal in Brie and Steve Peabody's home. Brie is a semi-practicing witch.
So you know that nothing good is going to come from this.
Steve is a non-believer when it comes to witch-craft and Brie will do anything to keep him, even deny herself her true nature.
That's the only thing I had a gripe with in the story. Brie was a witch. She should be proud of her heritage and not hide it or try to become a kitchen witch, just to please her husband. (Especially when his sister is a witch as well)
All that aside this book was a real page-turner from start to finish. It kept me glued to it until the last page was turned. I had to find out how things worked out for those two, especially when things looked bad for their marriage.
This definitely would have been a great book to read around Halloween, except that maybe turning out the light would be hard. Heck, I'm not sure that I can turn out the light now.