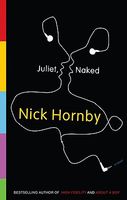 I loved and was annoyed by this book all at the same time. I loved it because anyone that's ever really been into a band knows people like Duncan, the kind of artist obsessed fans that make you almost hate an artist because they like them too.
I totally felt like I knew Duncan within a few pages and in those few pages I wanted to shove every Tucker Crowe CD up his butt and rotate them counter-clockwise. He was a prat, a wanker and possibly a few other things that all result in him being obnoxious. It made me wonder how Annie managed to stay with him for 15 years and even more than that, how she managed to still like the music of Tucker Crowe after all that time.
I loved when Annie received her first email from Tucker after she posted her review of Juliet, Naked. It seems fitting that she should be the one talking to Tucker and not Duncan.
I also loved getting to know Tucker, and not the persona that the psycho fans created online. He's a typical, washed up, musician, complete with a string of ex-wives and children that he barely knows or cares about, well, except for one, Jackson from his current, falling apart situation.
The ending is where it really went wrong for me. I wanted more for all the characters and that just didn't happen. I guess the problem was the book was just too real for me. It was good, but it was just too darn real.