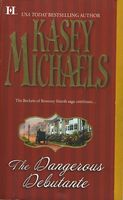 The Dangerous Debutante is book two in Michaels Romney Marsh Trilogy. This story centers around Morgan Becket and Ethan Tanner the Earl of Aylesford.
Morgan meets Ethan on her way to her brother's home in London. The two have more chemistry than any couple has a right two and they enjoy stirring up trouble with the ton, even though Morgan only stays in London for about a week, mostly because her brother Chance and his with Julia are at their wits end trying to figure out how to deal with her and her lust for Ethan. The two are very much alike as Morgan often says "Like recognizes like."
The book's strong point revolves around Morgan and Ethan's characters. Its not often that two characters connect from the beginning. The only tension between them is sexual.
The only thing that bothered me was how Morgan's family wasn't developed nearly enough. We know that there's something mysterious about them, but everything is cloaked in mystery. If you haven't read the first book in the series (and I hadn't) you are left wondering what is going on with the Becket's.