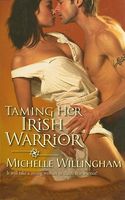 There's a reason Michelle Willingham's book is up for a RITA this year. Taming Her Irish Warrior is wonderful without being cliche. The main reason for this is that both lead characters showed great strength, even when things weren't going their way.
Ewan MacEgan had come to win the hand of an heiress, Katherine, who just happens to be Honora's sister. But even when he does win her, he finds himself with feelings for Honora that he just can't ignore, and neither can she and Honora has problems of her own.
Her deceased husband's son, wants to claim her as a lover so that he can gain a treasure his grandmother supposedly told her about. Because she's left her husband's land, John has abused the serfs. She's desperate to find a way to remove John from power, even if she has to fight him, and Honora is just the woman to do that. She's a tomboy in every sense of the word, and trained with Ewan, but Ewan would prefer her doing other things.
I loved how determined Honora was in helping her people and how determined Ewan was to help her so that she wouldn't be hurt. They put everything aside for what or who they believed in.
This was my first book from Ms. Willingham and it won't be my last.